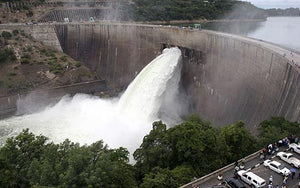 The COBRA Dam Has Sprung Some Leaks!
Four critical areas of COBRA administration
that need immediate patches!
Four COBRA Dam Breakers - Webcast Highlights!

• Department of Labor Model COBRA Notice Is Out Of Compliance! (used by of employers and administrators alike) contains faulty language that will break your COBRA system if not corrected. Or you can find out the hard way like Home Depot did when they were sued for material misrepresentation of COBRA rights!

• COBRA Outsourcing - A Dangerous Game To Play If You Don't Know The Rules! - Outsource, outsource, outsource is all you hear, but few detail the pros and cons. Too many hands in the COBRA pot is a slow leak waiting for the dam to burst. Learn how to effectively manage the relationship to repair this widening crack!

• Failing To Effectively Process Returned COBRA Notices! Thousands of COBRA notices are returned every day in this country for a variety of reasons, "not deliverable as addressed, "no such number", etc. When this happens your work is not done say the federal courts! While the proper steps are not complex, they must be followed, otherwise you may be hearing from a DOL investigator.

• Committing Insurance Fraud Against Your Insurance Company By Using Severance Agreements! We'll show you how to properly put together a severance agreement that does not leave the company open to fraud charges made by the insurance company or a COBRA notice violation.

Matt Isbell is the leading COBRA educator in the country and has been for 30 years!

This live COBRA webcast will also be available for rebroadcast on-demand. Watch the training in the comfort of your office, home, or on any mobile devise anywhere at anytime!
Who Should Attend?
New and Veteran Administrators and More!
Benefits • Human Resources • Claims Management, • Accounting • Insurance Agents • Management