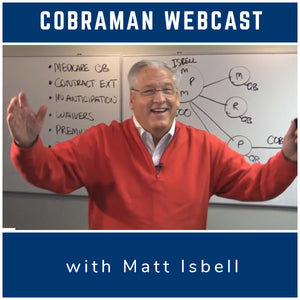 COBRA Made Easy for Rookie Administrators
The 2024 state-of-the-art COBRA training and administration system from the #1 COBRA expert in the country, Matt Isbell. A complete program consisting of street level COBRA education, updated administration tools to implement the new rules, and followup telephone and e-mail support for ongoing questions and concern. You are never alone as Matt becomes a member of your staff! 

​If you are tired of attending seminars or boring webinars where all they do is try to sell you COBRA administration services, then this program is for you. Matt will prepare you for the COBRA challenges ahead in 2024 with a uniquely positive approach to your COBRA education. You can, and will, excel in your group health insurance continuation coverage responsibilities. Whether you self administer, or use the services of an outside COBRA vendor, this program will boost your confidence and provide you with the knowledge, updated administration tools and followup support to do your job effectively.

What you'll receive:
Live or On-Demand Webcast on Wednesday, December 6, 2023!
FREE Three Months of Followup TX or E-Mail Support!

The Agenda for COBRA Made Easy for Rookie Administrators
How to pass IRS COBRA audits!

There is no such things as "COBRA Insurance"!

Protecting your personal liability!

Written COBRA notice standard operating procedures

Overview of the FIVE required notifications and 21 communication letters
Mandated COBRA procedures on notices returned by the USPS
The danger of COBRA "outsourcing"
Understanding the 60 day COBRA election period!
Proper coverage procedures during the 45 day premium payment period!

And More!